Investor Protection
Investor Protection In line with NASD's commitment to ensuring transparency, integrity , and investor protection, NASD has instituted a Complaint Management Framework to manage investors' complaints against Members. All complaints received by NASD shall be investigated under the direction of the Disciplinary Committee and Board (as required) and resolved in a fair and equitable manner.
NASD Complaint Handling Process
The following are the steps involved in the Complaint handling process of NASD: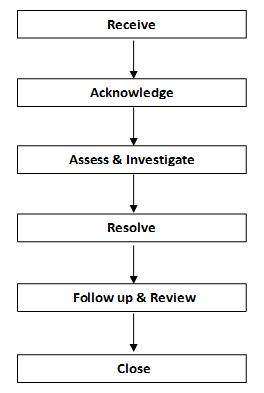 Receive Complaints
i. All Complaints to NASD shall be submitted through any of the following channels:

(a) By email to NASD's dedicated complaints email address: complaints@nasdng.com
(b) By commercial courier or personal delivery to NASD's office addressed to the Chief Compliance Officer NASD Plc, 9th Floor, UBA House, 57, Marina, Lagos.

ii.All Complaints must contain all material facts in relation to the complaint with supporting documents. It shall also contain the name, physical address, e-mail address, telephone/mobile number, date of complaint and must be signed by the complainant.
iii. Complaint Forms are available for this purpose here and at our office.
Acknowledge Complaints
i.The Chief Compliance Officer shall acknowledge in writing complaints received via email within two (2) working days and within five (5) working days for all complaints received at NASD's physical address.
ii.The acknowledgment shall indicate the steps being taken to resolve the complaint and when the person complaining can expect a reply.
Assess and Investigate Complaints